Research and Development
Product Development
Dolle Suzhou is very proud of the research and development department. This is a critical stage for all our customers when the process is begun and the foundation is laid for the success of the product. The product development cycle is a process which begins with ideas and ends with a finished product shipping out globally.
Through-out this essential process we work closely with YOU our customer and your organization's relevant departments (Sales, Marketing, Technical. Research and Development)
The product development cycle includes these stages:
Idea generation and selection
Prototyping
Technical development
Drawings and documentation
Process and technology testing and recommendations
Packaging and logistical optimization
Dolle Suzhou inputs its expertise at each stage of the product development cycle including offering our customers the opportunities represented by our extensive supplier network to support the selection of tailored materials and technologies which offer the solutions to most product development challenges.
Testing and International Standards
Our quality testing standards are part of our corporate values to meet and exceed industry norms, but the specific standards are customer driven. Dolle Suzhou has achieved the international standard ETAG 08 for stairs and ISO 9000 for production standards and ISO 2859 for raw materials.
Our research and development department which has a staff of 5 trained specialists operates a dedicated test facility which includes such specific testing equipment as the Salt Chamber Test Machine which places metals into rigorous conditions of high corrosion and rust to determine the quality of the materials.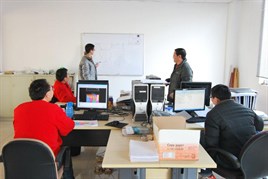 Tooling
Dolle Suzhou produces and maintains all of its own tooling, with a dedicated department of trained staff, giving us unparrelled strength and flexibility over our assets of production.